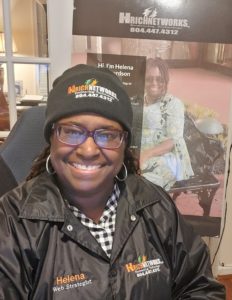 Technology businesses know they need a website.
If you're in real estate (even an individual agent), promote multi-level marketing or a replicated website, YOU NEED A WEBSITE.
Many concern with not getting noticed, listed, or accepted into search engines. If you're developing several products at a time, it becomes challenging to keep up with all the promotional demands.
The best benefit of having your site is now you can be listed with the search engines. Optimizing your keywords on your social media platform and your site description tags will help target those clients you are trying to reach.
If internet users can't find you on the web, they'll seek out your competitors who have websites.
Give me a call today (804) 447-4312…I'd love to assist you.
HRichnetworks, LLC
www.HRichnetworks.com
helenar@hrichnetworks.com
Gear supplied by:
Alexander Tekton Olivieri-Rodriguez
www.woodpeckerscraft.com
[livesite-contact title="Contact request" class=""]
Don't Just Take Our Word For It…​
Our Customer's Say It Best
Press Review:
By JOAN TUPPONCE Special correspondent Sep 3, 2017
Gwen Hurt, CEO of Shoe Crazy Wine, asked Richardson to set up the wine shop's online merchant services.
"There were many challenges with the 'do-it-yourself' type of site that I used," Hurt said. "Helena was diligent in her service. She put in the extra time that was required to complete the job. She was very professional and thorough."
She appreciated Richardson's team-player attitude.
"She is a collaborator," Hurt said. "She does not leave her clients out of the decision process. If she needs to change direction, it's a collaborative decision."
Reference: 
Richmond Times-Dispatch